.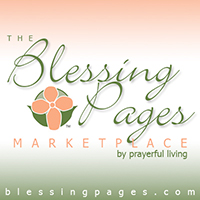 View the Blessing Pages Marketplace
Place a CLASSIFIED LISTING:
VIP PASS members CLICK HERE for discounted Classified Listings
Place a DISPLAY AD:
Place a listing as a:
Advertise on the Blessing Pages Marketplace:
"We have been very successful in our advertising on your site. Many inquiries. The service you provide is unique and very necessary."
— Ed Specht, The Gardens, Private Nursing for Christian Scientists
Reach an audience of Christian Scientists and others who value the power of prayer

Advertise on one of the busiest Christian Science related web sites in the world

The Blessing Pages Marketplace is the largest Christian Science related Marketplace in the world in any medium!

checks and credit card payments accepted

advertising supports the continuation of this web site


Advertise an event on the Prayerful Living Calendar
Advertise your Christian Science Practice on PrayerfulHelp.com
List your Christian Science related organization on our A-Z Directory of CS-related Organizations
Advertise on the Prayerful Living and CSDirectory home page
Become a Prayerful Living and CSDirectory SITE SPONSOR
Post your employment needs with us!
Don't wait weeks for your employment listings to appear. Place your employment lisitings in the Blessing Pages Marketplace Classifieds for only $50 each ($45 for VIP PASS members) VIP PASS members CLICK HERE — and we will post them on this site within 24 hours or the listing is FREE.* Listings remain on the site until the advertised position is filled or for up to 6 months, whichever comes first.
Click here to post your employment listings»


*on PAID listings placed Monday - Friday from 9am - 5pm Eastern time excluding holidays.