Literature Redistribution Center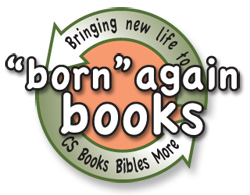 "born" again books is designed to get books and other inspirational materials back into circulation where they can do the good they were "bound" to do.
Do you have little used or unused books? Reading Room closure? Estate items? If these used items are in good condition we'd love to receive them. Contact us for details.
We are currently accepting:
Any books on Christian Science
Christian Science Bound Volumes (CS Journal and Sentinel)
Christian Science hymnals
Any Bible translations
Any Bible commentaries or other Bible-related books
Books of general inspiration
Inspirational music CDs and Bible talks on CD
Sheet music - solos, preludes, postludes
Other items? contact us
We are NOT currently accepting:
unbound Christian Science Journals or Sentinels
cassette tapes or vinyl records
We suggest that your donations be shipped to us using USPS Media Mail so that you do not incur large shipping expenses. We will warehouse these items and actively work to find them new homes where they will be read and loved as intended.