Editor's note: Although not a "Christian Science school" The Queens and Kings School in Port Harcourt, Nigeria, operates on the principles and values found in Christian Science, and is run by Christian Scientists. I thought you'd find this account interesting and inspiring. MM
ABOUT QUEENS AND KINGS SCHOOL
The school is based on Christian Science principles and we share Spiritual Qualities to be understood and expressed each month in our Character Education program.
We help the children to see we are all part of God's family and there is that of God in each one of us.
Q&K UPDATES: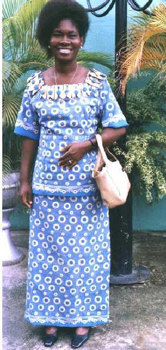 BEGINNINGS - 2002
The Queens and Kings School, Port Harcourt, Rivers State, Nigeria Christian education for all children between the ages of 3 and 10 Stella Chisa Elikor [photo: right], a member of First Church of Christ, Scientist, Port Harcourt, Nigeria and of The Mother Church in Boston, is the founder of EFL – Education a Foundation for Life. This is what she says of her mission. This is an arm of the outreach of God's, Divine Love's, ministry. It is a Divine adventure.
God is the builder of every house. Let God build EFL to His glory. "God keepeth us from falling, fulfilleth all our need, His Love doth e'er uphold us" (based on Hymn 189)
The joy of the Lord is our strength. "It is the Lord who rises with healing in his wings..... In holy contemplation we sweetly then pursue The theme of God's salvation, And find it ever new..... I cannot but rejoice." (Hymn 313)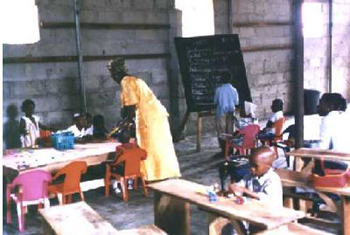 This is Stella's prayer:
"Father, I thank you for this exalted hour, Blessed be Thy Holy name. We adore You even as we worship You. Teach us how to serve You in Spirit and in Truth and in sincerity of purpose. That our lives will shine as a light unto others, who have not known the Truth. This is our earnest desire. That all glory will be ascribed to You, and You alone."
Her views about "Education, a Foundation for Life" are as follows:
1. EFL is to help to restore the lost glory of Education in my country, Nigeria.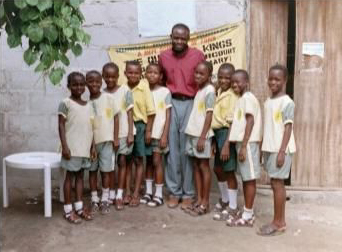 This will be done, by ensuring that the quality of education will be motivated and controlled by the spiritual idea of Divine Love. Again, that we must have qualified Teachers, who will have a zealousness for the profession, and thereby give their very best, so as to achieve our high objectives/goals.
2. EFL is to instil the reverence and appreciation for God, as the omnipotence, omnipresence of Divine efficacious Love, the All in All.This spiritual quality is very much lacking in our educational system in Nigeria. This fact has brought about the high rate of crime and cultism we see presently in the country.
We know that it is established that the fear, reverence, and love of the Lord is the beginning of true wisdom.
A child that has been taught from ages 3 - 10, the qualities / attributes of God and the blessings He bestows, will always strive to maintain God's rules and ordinances and share those blessings throughout his/her life. My country's educational system is such that they have never given much thought to these spiritual laws and qualities.
3. EFL is to let the children understand that "Intelligence is of God, Divine Mind". And this Divine intelligence He endows on all his loving creation in an understanding of the Divine principle of the universe, Love. God and Man coexisting, as Spiritual Principle and idea.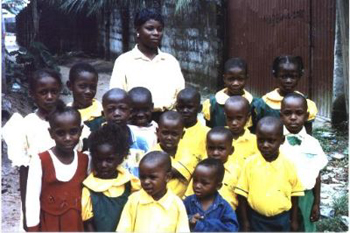 4. EFL will inculcate to the children the need for absolute Reliance on God. We will teach them never to heed to any other false beliefs, suggestions and obligations that are not from God, Divine Principle.
Absolute reliance on God, puts off all fear, strife, anxiety, hatred, malice, slander etc.
Trust in God, imbibes calmness, stillness, joy, love, light, trustworthiness, and great expectations of growth, understanding and fruition.
5. Through EFL all the children will be taught to love their fellow man/woman absolutely, thereby loving God. Their knowing that every man/woman/child is the "image and likeness of our Father/Mother God" will undoubtedly lead to the result of our Education having the quality of excellence. We will reveal stable, loving, caring, thoughtful, progressive, objective, positive children willing to contribute, by their own lives and example, to a more spiritually based society in Nigeria.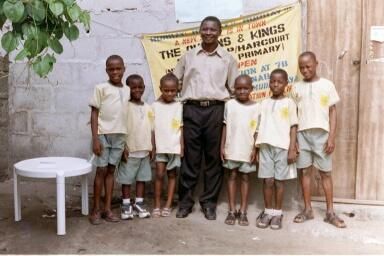 NOTE.
The Queens and Kings School started on 14 OCT 2002 and opperacted with 50 children and five teachers from temporary leased land in a two roomed structure erected by themselves. The school starts each morning with Daily devotion and closes with prayers. The school uses the King James Bible supported by other Bible translations to enable the children to understand better the spiritual ideas taught in the Bible. The school also uses the Christian Science hymnbook, but is non-denominational, welcoming children from Moslem as well as Christian homes.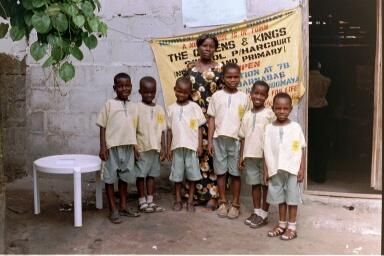 Each month under "Character Education" we focus on one spiritual quality. This month the quality is humility. On Saturday at our last Parents and Teachers meeting we worked with this Bible text from I Peter 5:5-7 Likewise, younger ones, be subject to older ones, and all being subject to one another. Put on humility. For God resists proud ones, but He gives grace to the humble. Therefore be humbled under the mighty hand of God, so that He may exalt you in due time, casting all your anxiety onto Him, for He cares for you. (Modern King James Bible)