Premium listings:

The Blessing Pages Marketplace is a worldwide center of commerce for prayerful people. Please support our advertisers! and please do mention Prayerful Living when purchasing from them. Click here to place an ad»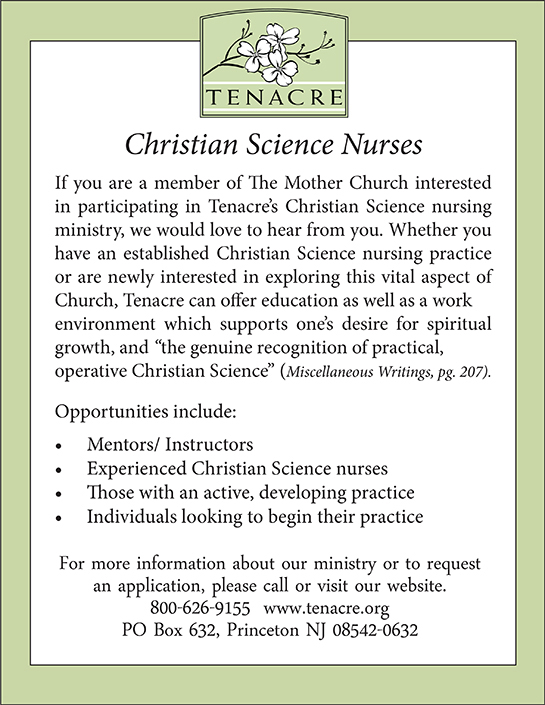 CHRISTIAN SCIENCE NURSING: A SPECIAL CALLING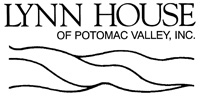 We have an immediate need for Christian Science Nurses at our beautiful nursing facility and Visiting Christian Science Nurse Service in Alexandria, Virginia. If you have ever been trained or Journal-listed as a Christian Science Nurse, and would like to renew or continue your practice and share your love and special gifts, we would like to hear from you. Skills refreshment and work towards current listing in The Christian Science Journal available. Please visit our website for details: www.lynnhouse.org
Please contact Mary Ladson, Director of Christian Science Nursing, for an Application packet:mail@lynnhouse.org or (800) 283-4325
1117
Join us as a Christian Science nurse or train to become one!
Nestled in the hills of Los Angeles, Broadview is the perfect place to bring your practice of Christian Science nursing or to begin one through our Education program. We offer courses from Level I (beginner) to Level IV (leadership). Visit us online at www.csbroadview.org for more details.

If working in a beautiful and harmonious environment with year-round sunshine and staff that feel like family sound like the

right fit for you, give us a call at (323) 221-9174 and ask for Melanie Peterson (employment inquiries) or Melanie Pilonieta (Education inquiries).
72217


8900 West 38th Avenue, Wheat Ridge, Colorado 80033
Come share your love of Christian Science with us
Let your light shine!
Wide Horizon is currently accepting applications for experienced Christian Science nurses, as well as from those who are interested in joining our Christian Science nurses training program.
Wide Horizon is a modern facility in a beautiful location with competitive salary and benefits
Christian Science Nurses training is conducted on the premises, and student nurses earn while they learn the metaphysical concepts and practical skills necessary for them to progress in their ministry.
Please call or email Sue Wood DCSN:
303-434-4445 swood@widehorizon.org
52217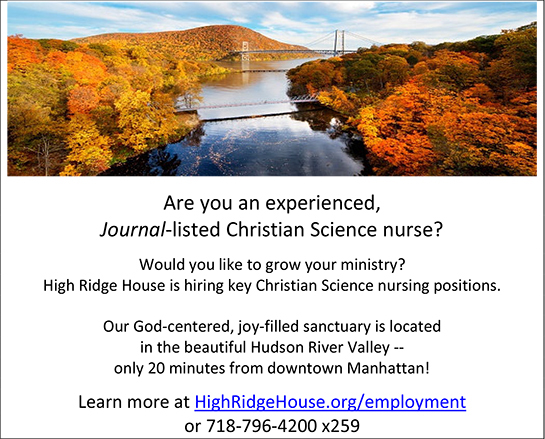 07117
113017

---
Alphabetical listings:
Business Manager
Daystar, Inc., Davie, Florida
Job Summary:
Serves directly under the direction of the Administrator; also supports the Director of Christian Science Nursing.

Serves as interim Administrator when Administrator is away.
Understands and supports the mission of Christian Science nursing.
Responsible for all facets of accounting, including record keeping, preparation of all financial reports and statements.
Requires organizational skills and ability to multi task; maintains confidentiality in every aspect of work.

For discussion of specific responsibilities and qualifications, applicants should contact Beverly Luttrell, Administrator at
954-473-0167 ext 115 or email to daystarfl@gmail.com
102617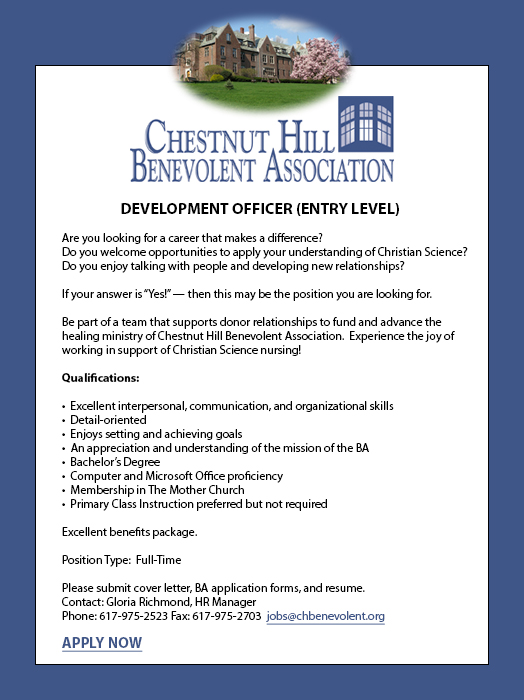 100617

DIRECTOR OF DEVELOPMENT / ALUMNI
Full Time ? Salary $65,000
Clairbourn School, a co-educational independent day school in suburban Los Angeles, California is seeking an experienced fundraiser to lead our successful annual fund and other related school campaigns. Clairbourn was established in 1926 and is situated on a beautiful eight acre campus serving preschool through 8th grade.
The successful candidate will have demonstrated competencies in all areas of fundraising for schools or other non-profit organizations. The development position is responsible for a variety of events, direct solicitations, general mailings, and volunteer coordination.
contact info: For more information and a full job description visit http://www.clairbourn.org/employment. Applicants should send a resume and cover letter outlining how they meet the specific requirements of the position to Dr. Robert Nafie,

Headmaster (rnafie@clairbourn.org)
by June 30, 2017.
110817
DIRECTOR - VISITING CHRISTIAN SCIENCE NURSE SERVICE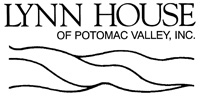 Lynn House of Potomac Valley, in Alexandria, Virginia, is seeking an experienced Journal listed Christian Science nurse to oversee our established VCSNS serving Washington DC and the adjoining 6 state area. Please visit our website, www.lynnhouse.org for details, job description and application. This position closes when a successful candidate has been identified.
Contact Lynne Darnell, Director of Human Resources with questions. 703-379-6000 or lynne1@lynnhouse.org.
111517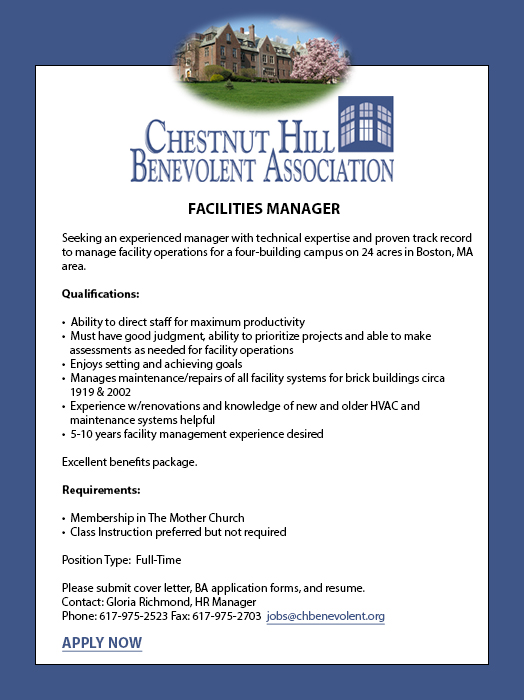 HEAD OF SCHOOL
Japhet School, -- a small, independent day school serving 70 students in preschool through 8th grade in Oakland County, Michigan -- is looking for its next Head of School to begin in the summer of 2018. Japhet is a leader in its award-winning Character Education curriculum and a member of both the Independent Schools Association of the Central States (ISACS) and the Association of Independent Michigan Schools (AIMS). Visit Japhet's website at www.japhetschool.org.
Applicants must have the following qualifications:
Master's Degree (MA) or equivalent combination of education and experience;
outstanding moral character;
membership in The Mother Church, The First Church of Christ, Scientist, in Boston, Massachusetts;
active membership in a recognized Branch or Society of The Mother Church;
class taught by an authorized teacher of Christian Science.
Interested candidates should send an e-mail to Frank Edwards, Search Committee Chairman, at japhet@japhetschool.org by July 19th to receive an informational package with more details about the Head of School position.
110117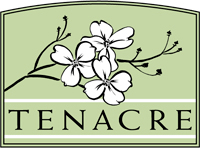 TENACRE
Princeton, NJ
...I will make them keepers of the charge of the house, for all the service thereof, and for all that shall be done therein.
— Ezekiel 44:14
Tenacre is looking for housekeepers who love to clean and make a room sparkle for the comfort and joy of others!

This is a full-time opportunity to let your love of serving and working together shine to support the healing mission of Tenacre. The schedule is typically Monday through Friday, 7:30 a.m. to 4:00 p.m., with some weekend every four to six weeks.

Students of Christian Science are preferred. If you are, please complete the "Application Supplement" in addition to the main application.

Prior housekeeping experience and membership in The Mother Church are also preferred.

Proficiency in English is required.

If you have questions or would like a complete job description, please contact Staff Relations at 609-279-2304 or employment@tenacre.org. If you know individuals who may be interested in this position, please tell them about it.
090617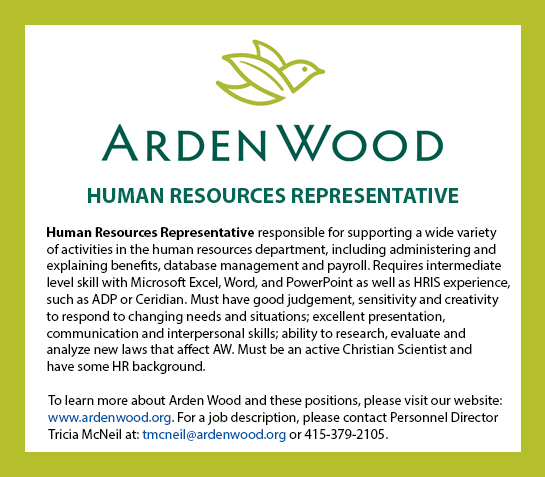 120317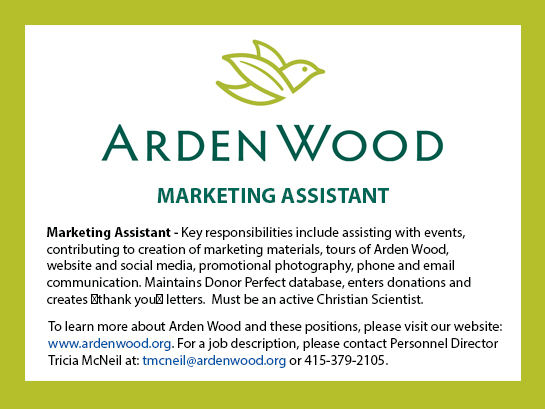 120317
Mentoring Team Members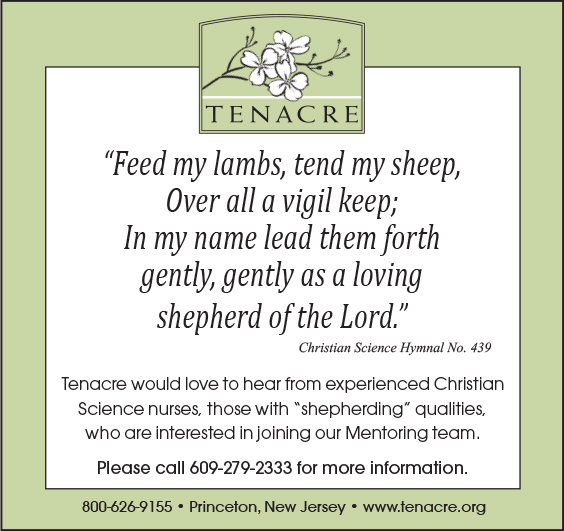 080317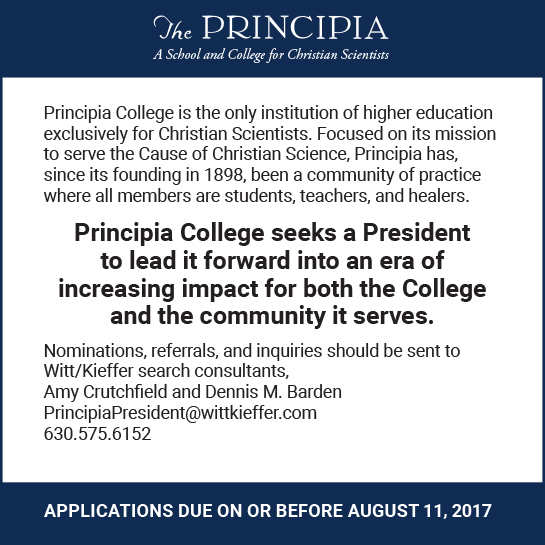 102317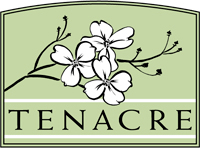 TENACRE
Princeton, NJ
PART TIME RECEPTIONIST
The part-time Receptionist serves as an ambassador for Tenacre with a welcoming and gracious demeanor.

Duties, Responsibilities and Competencies

Greets visitors at Tenacre's reception desk in a professional and pleasant manner
Uses sound judgement to respond to questions and requests in a timely manner, and knows when, and to whom, a decision should be referred
Pays attention to details
Assists with mailings
Demonstrates ability to learn and use basic features of accounting and reservations software
Willingly takes on other duties as assigned

Schedule

Flexible schedule to include working weekends

Required skills and qualifications


Membership in The First Church of Christ, Scientist
Demonstrated ability to apply the truths of Christian Science in a workplace setting
High school diploma or GED equivalent
Proficiency with computers and basic typing skills
Fluency in speaking, reading, and writing English

If you have questions or would like a complete job description, please contact Staff Relations at 609-279-2304. If you know individuals who may be interested in this position, please tell them about it.
121917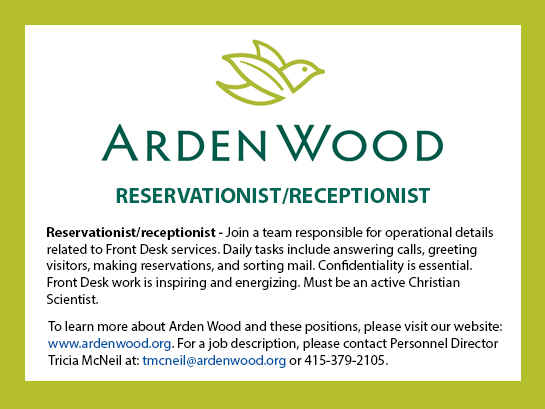 120317

Student Life Programming Manager
Principia College, Elsah, IL
Full-time, 12-month position beginning as soon as possible
The Student Life Programming Manager is a character educator who manages, in close collaboration with the Dean, a coordinated, intentional, and integrated approach to character education programming (including within social events) for all College students and with an emphasis on Principia's Policy 19, College Wide Learning Outcomes, and Student Life Outcomes; trains and evaluates Student Life character education program facilitators; designs and collaborates with other departments regarding campus-wide character education programming; is an administrator for the student justice/discipline process; supports work with assessment; provides insightful vision of education and leadership; acts as an inspirational and professional role model and demonstrates patience and diplomacy; is a quick learner, has a strong work ethic, and is a problem solver. Minimum Qualifications: Active Christian Science Mother Church and local branch church membership; Christian Science class instruction; bachelor's degree; master's degree in education or related field, preferred; solid character education programming experience; experience with event planning and execution; solid employee management experience; conflict resolution and mediation skills; awareness of current academic and moral issues facing students, including gender and diversity issues; computer literacy, including a working knowledge of Microsoft Office; ability to articulate the moral and spiritual reasons underlying community values and standards; ability to lead effectively by translating day-to-day issues and tasks into the larger context of serving the Cause of Christian Science.
*This description includes some, but not all, of the activities and responsibilities assigned to this position.
For more information, please visit www.principia.edu/jobs, or email/call: hr-elsah@principia.edu or 618-374-5202.
102817
Substitute Teachers
Clairbourn School is seeking professional educators or aspiring teachers responsible for operating a safe, orderly, positive classroom environment while the teacher is away. The substitute must effectively manage the classroom and provide instruction for students following the teacher's lesson plans. College degree required; teaching credential preferred; teaching experience preferred. Clairbourn School serves students in junior pre-Kindergarten through eighth grade.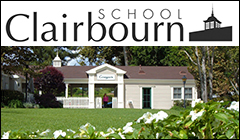 Contact: Amy Patzlaff, Ed.D. Assistant Head of School Clairbourn School 8400 Huntington Drive San Gabriel, CA 91775 Phone: 626-286-3108 ext. 150 FAX: 626-286-1528 E-mail: apatzlaff@clairbourn.org
112517
Site sponsors:


Post your employment needs HERE with us!
Place your employment listings for only $50 each ($45 if you are a VIP PASS member) — and we will posted them here within 24 hours or the listing is FREE.* Listings remain on the site until the advertised position is filled or for up to 6 months, whichever comes first.
Click here to post your employment listings»
*on PAID listings placed Monday - Friday from 9am - 5pm Eastern time.

Ads in this category:
Premium Listings:
Tenacre: Christian Science Nurses
Lynn House: Christian Science Nursing - a special calling
Broadview: join us as a Christian Science nurse or train to become one
Wide Horizon: looking for experienced Christian Science nurses or join our Christian Science nurses training program
High Ridge House: hiring key Christian Science nursing positions
Principia: employment at Principia school and Principia college
Alphabetical Listings:
Business Manager - Daystar, Inc., Davie, FL
Development Officer (Entry level) - Chestnut Hill Benevolent Association, Chestnut Hill, MA
Director of Development / Alumi - Clairbourn School, San Gabriel, CA
Director - Visiting Christian Science Nurse Service - Lynn House of Potomac Valley, Alexandria, VA
Development Officer (Entry level) - Chestnut Hill Benevolent Association, Chestnut Hill, MA
Head of School - Japhet School, Oakland County, MI
Housekeepers - Tenacre, Princeton, NJ
Human Resources Representative - Arden Wood, San Francisco, CA
Marketing Assistant - Arden Wood, San Francisco, CA
Mentoring Team Members - Tenacre, Princeton, NJ
President - Principia College, Elsah, IL
Receptionist, Part time - Tenacre, Princeton, NJ
Reservationist / Receptionist - Arden Wood, San Francisco, CA
Student Life Programming Manager - Principia College, Elsah, IL
Products/services appearing in the Blessing Pages Marketplace are provided for the benefit our diverse site audience and do not necessarily indicate an endorsement by PrayerfulLiving.com
I was just thinking about how grateful I am for your site. It has provided me with, among other things, two jobs. One at Crystal Lake Camps and now, this year, at the A/U Ranches. My husband and I have been hired as the Kitchen Manager and Assistant Cook. We are full-time RVers who travel to seasonal jobs throughout the year, so the Directory has been a great resource to keep in touch with the Christian Science community.

You're providing a wonderful service. Keep up the good work!