The Blessing Pages Marketplace is a worldwide center of commerce for prayerful people. Please support our advertisers! and please do mention Prayerful Living when purchasing from them. Click here to place an ad»
Can't afford Christian Science nursing care?
In the spirit of brother helping brother, this nonprofit fund provides financial assistance to Christian Scientists in Southern California who need Christian Science nursing care but cannot afford it. It provides for nursing assistance in a facility or at home. Assistance is also available to help individuals who wish to train to be a Christian Science nurse overcome financial obstacles and expenses incurred during training. Ask for an application from your branch church care committee, pracititioner, facility, or nurse; or download it from the web site.
Please contact the Christian Science Nursing Care Endowment at PO Box 5621 Pasadena, CA 91117, or phone 714/687-5313, or email info@csnce.org. Your contributions may be sent to this address as well. www.csnce.org
Scroll down to view all ads in this category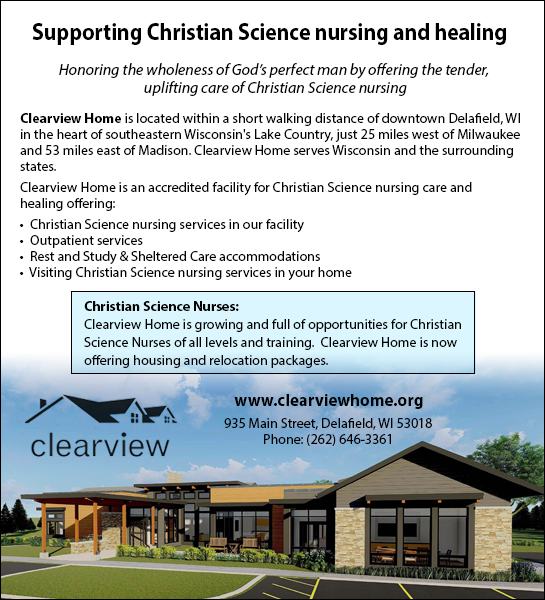 Scroll down to view all ads in this category

A Christian Science Nursing Facility located in Central Ohio

Glenmont's mission is to exemplify the healing ministry of Christian Science as articulated in the Church Manual and in Science and Health with Key to the Scriptures by Mary Baker Eddy. We are dedicated to:

Serving all those whom God sends to us to be served;
Supporting Christian Science healing through spiritual regeneration and radical reliance on God;
Loving our patients and staff wholly, with Christly affection, thereby fostering a spirit of home and Christian community;
Encouraging each nurse to express his or her Christian Science nurse ministry in direct relation with God;
Providing excellence in patient care

We are dedicated to demonstrating a higher, purer, more Christianly scientific nursing that actively supports healing and provides evidence of God's great love. We offer multiple levels of care and also have financial assistance available, including Medicare and Medicaid.

For more information please contact us at:
Phone: (614) 876-0084
Email: glenmont@glenmontcsn.com
Website: www.glenmontcsn.com
Site sponsors:





Products/services appearing in the Blessing Pages Marketplace are provided for the benefit our diverse site audience and do not necessarily indicate an endorsement by Prayerful Living Publishing.