The Blessing Pages Marketplace is a worldwide center of commerce for prayerful people. Please support our advertisers! and please do mention Prayerful Living when purchasing from them. Click here to place an ad»
Daystar Retirement Village - Seattle, Washington



AT DAYSTAR,
COMPANIONSHIP MAKES LIFE A JOY
Come live in a community where your neighbors are your friends. Dine, garden, share and grow with fellow Christian Scientists. You'll enjoy maintenance-free living in our spacious studio, 1-or 2-bedroom apartments, with easy access to church, lectures and other rewarding activities.

The emphasis is on the forever development of God's man at Daystar. We value your individuality and your independence, and we cherish your desire to lead a full, productive and progressive life.

At Daystar, you can have your own home without having to be alone. For more information, please visit our website: www.daystarseattle.com
2615 SW Barton St
Seattle, Washington, 98126
888-848-5050
Scroll down to view all ads in this category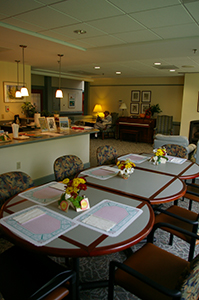 The Residences at Lynn House might be just what you are looking for… your own apartment with a private bath, up to 2½ hours of light nursing care each day, should you have a need, lovely shared areas including a family living and dining area, a comfortable TV room, a state of the art kitchen and activity area - all looking out on a great deck, gardens, lawns and trees. Your day includes three nutritious meals, snacks, all amenities, and social and spiritual nourishment. We also provide transportation to church, community and other interesting events.
We are just a few minutes from suburban Washington DC and hope you will give us a call and come for lunch and a tour!!
Site sponsors:


Products/services appearing in the Blessing Pages Marketplace are provided for the benefit our diverse site audience and do not necessarily indicate an endorsement by Prayerful Living Publishing.