Your onging financial support of
healingmusic365 is needed and appreciated...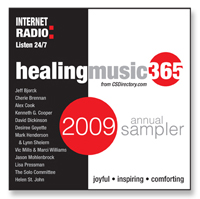 Support this internet radio station:

Donate at least $50 and receive the healingmusic365 2009 annual sampler CD as a gift. This limited edition CD includes 12 tracks from 12 of our healingmusic365 internet radio station artists. (CD should be available for shipping in October 2009).
Your ongoing financial support helps the continued develpment of healingmusic365. Please consider $12 (equiv. to $1/month) or $52 (equiv. to $1/week) or whatever amount you feel you can help support this work. Thank you!
Or call 602-635-1987 to make a donation by phone.
Your contributions are much appreciated. If you would like to make a contribution to support the continued development of healingmusic365 and its mission, please make checks payable to "csdirectory.com" and mail to:
CSDirectory.com
"HealingMusic365 Project"
PO Box 217
Tahoma, CA 96142 USA
Please note that contributions are NOT tax-deductible.
Thank you all in advance for your support.
Gratefully,
Mark Mohlenbrock